About
Welcome to Ready, Fire, IM! – the blog that helps internet marketing newbies get unstuck and start building a profitable business online.
Hi, my name is Yee Shun Jian and I am an online entrepreneur making a full-time living from this exciting, new medium known as the internet, through blogs like RichGrad.com
From Making Friends to Making Money
I started my online journey way back in 1997 when I was just 16 years old. You see, I was always the shy kid growing up so when I discovered the internet back then, I was ecstatic and couldn't get enough of it.
To me, the internet was like heaven on earth because it offered me the opportunity to make new friends without all that social awkwardness normally associated with it.
Over the next 2 years+, I found myself actively hanging out in internet chat rooms (mIRC) and forums, playing multi-player games like tetrinet and instant-messaging my new online buddies (with the then popular ICQ).
As the number of my online friends grew, so did my interest in starting my own website (because all the cool internet savvy kids had one!) The problem was I lacked the technical know-how to do it and so I did the most logical thing an 18 year old would do – I chose to take up a major in computing in college.
I matriculated in the School of Computing (SoC) in the National University of Singapore (NUS) in August 2002 after serving 2.5 mandatory years in the Singapore army.
Shortly thereafter, I started my first blog on ujournal.com (now defunct) and subsequently moved to explore other blogging platforms such as livejournal.com (2003), blogspot.com (2005) and wordpress on my own domains (2007).
It was pretty apparent from the start of my college education that I was more interested in the communications and business aspects of computing rather than the technical areas. Instinctively, I focused on modules that expanded on the business side of computing and to differentiate myself from my peers, I also took higher level marketing, finance and entrepreneurship classes from the NUS Business school.
When it came time to choose my honours year project (HYP) in March/April 2005, it was a no-brainer. I looked through all the topics and only one managed to catch my eye – A research paper on blogging. Not surprisingly, it was also one of the most popular projects being bidded on but my experience as the lead editor in the publications committee of my faculty club and that as a freelance journalist for an online entertainment and lifestyle magazine gave me the winning edge over the rest of the HYP candidates to secure the project.
To come up with my honours year thesis, I spent one full year studying blogs and totally immersing myself in the blogging culture. I followed over 100 randomly selected blogs and that was when I discovered that you can actually make good money online (A few of the blogs in the sample were actually professional blogs that were making thousands of dollars every month).
Intrigued, I started my own little test blog and made my first dollar online in 2005 through google adsense.
I went on to make a couple of hundred dollars from adsense and while that wasn't exactly a full-time income, it further strengthened my belief that it is indeed possible to make real money online.
My Journey To Becoming A Full-Time Online Entrepreneur
Due to that little online success I experienced, when I graduated from NUS in June 2006 with a second upper honours degree in computing (Information Systems) and a minor in technopreneurship, I actually toyed with the idea of becoming a full-time online entrepreneur.
However, the usual fear and doubt stopped me. I had to pay off my college loans and the most sane thing to do at that point was to get a full-time job. I managed to get into a local multi-national corporation (MNC) as a corporate communications executive but the idea of making a full-time income from the internet was always swimming around at the back of my head.
Working in a MNC seemed glamorous at first. However, the long working hours and unavoidable office politics soon took its toll on me. I was literally dragging myself to work every day and I hated it.
At that point of time, my dad's health was deteriorating (He suffers from Churg Strauss Syndrome, a very rare illness brought about by complications after an asthma attack) and I realized I needed to spend more time with him at home.
Around the same time, I received a call from my HYP mentor telling me that my blogging research paper had been revised and submitted to various conferences and would be published in an upcoming book Economics, Information Systems, and Electronic Commerce: Empirical Research
The idea of working from home and making a full-time living online, together with the flexibility and freedom that came along with it, was revived in my mind and I began to really think long and hard about quitting my job and starting my own online business.
I weighed the pros and cons carefully and on 30th April 2007, I made one of the hardest decisions in my life – I tendered my resignation and on 31st May 2007 I was officially "unemployed" by my own choice.
In order to gain more clarity and perhaps out of sheer desperation to succeed, I invested about $20,000 of money I didn't yet have (through the use of credit card loans) into personal development, internet marketing and wealth seminars and related books/videos/audio programs and products.
In July 2007, I started my Personal Development Blog RichGrad.com and freely shared what I learned from various success authors/speakers on my blog in my own words and using my own personal experiences.
For the first few months, I wasn't actually making any money at all. In fact, I was fueled by pure passion and a desire to help people improve their lives.
As the credit card bills came in month after month, I must admit I became rather stressed out and almost gave up.
I'm glad I stuck with it and pushed through those tough few months because gradually as I built up my readership and credibility, as well as experimented with various affiliate products and internet marketing strategies, I began to see significant income coming in.
I reinvested my profits into pay-per-click (ppc) advertisements and watched my online income grow month by month.
In September 2008, my online income surpassed S$10,000/month.
In April 2009, I ran my first internet marketing workshop teaching serious beginners how to set up their own blogs (Update: I just ran another "Ready, Fire, IM!" workshop in Sept 2010. You can check out the testimonials from my internet marketing workshops here)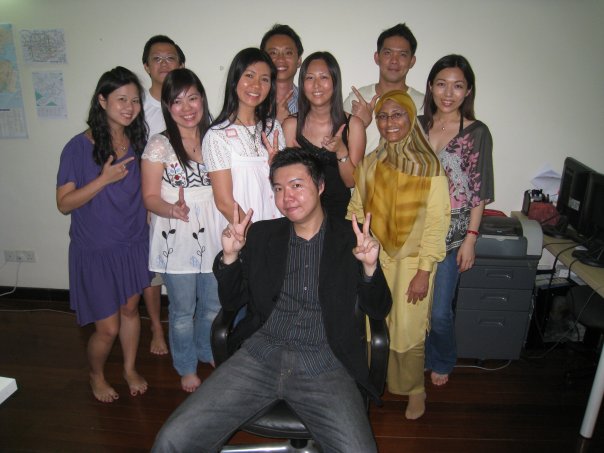 Graduates from Shun Jian's First "Ready, Fire, IM!" Workshop
In May 2009, I appeared in The New Paper with my mentor Adam Khoo, one of Singapore's youngest self-made millionaires.

My Photoshoot with Adam Khoo For The New Paper

Yee Shun Jian and Adam Khoo on The New Paper, Centrefold, 20th May 2009
That same month, I travelled to 9 different cities in 5 countries for my holidays.
I was finally enjoying the fruits of my labour… but deep down inside, I know I could do more… much, much more…
ReadyFireIM.com is born!
As an entrepreneur, you're always looking for the next level.
For a while, I really didn't know what the next level was.
So I looked around for clues and that was when I realized that there are a lot of people trying to make money online but are stuck.
I also noticed that there are quite a number of people coming to me for advice on building a successful internet business.
So I thought to myself, why don't I start teaching others what I know about internet marketing, blogging and making money online?
And in essence, that's how this blog came to being.
Are you stuck?
Most people get stuck online (well actually offline as well) because they follow the "Ready, Aim, Fire!" philosophy of doing things.
Now, don't get me wrong… this is not necessarily bad… it's just that with this approach, you tend to get stuck in the "Aiming Phase" (research/reading/analyzing) and never really get to the "Firing Phase" (executing/doing/taking action).
There's a better alternative – the "Ready, Fire, Aim!" approach.
In short, you take action, get feedback, then you make adjustments and take action again.
I've adapted this approach for Internet Marketing (IM) and called it "Ready, Fire, IM!"
In this blog, I share actionable steps you can take to start building your own profitable internet business.
Ask Me Your Internet Marketing Questions
Do you have any internet marketing and/or making money online question(s) you need help with? Feel free to ask me your internet marketing questions here.
Subscribe to Internet Marketing Tips from Ready, Fire, IM!
To receive powerful internet marketing tips directly in your email inbox, fill in your first name and primary email address below and click on the "Sign Up Now!" button…
Connect with Me!
Feel free to connect with me on Facebook, follow me on Twitter and/or add me as a friend on StumbleUpon.
You can also email me via my contact form with regards to JV/Advertising opportunities.
I hope you enjoy your stay at Ready, Fire, IM…
Go grab your dose of internet marketing tips now!
To Your Online Success,
Yee Shun Jian
http://ReadyFireIM.com (My Internet Marketing Blog)
http://RichGrad.com (My Personal Development Blog)
Incoming search terms: